Personalities
Moe Howard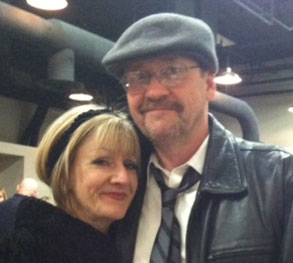 moe@knco.com
Moe has been on the air in Northern California for several decades, beginning with a small radio station in Marysville that played what was called "Middle of the Road" music. He has hosted country music, classic hits, a news format, and is very happy to be working with Allison Kirk, talking about the many going's on in the artistic community of Nevada County, and playing today's hits and yesterday's favorites.
Moe is extremely lucky in love, married to a beautiful fitness instructor who helps him take care of the many wonderful creatures on their place in Sutter, such as his friend and kitty, Arletta Van Hausen.
He enjoys baseball (watching, not doing) and a cold craft brew.
clear photo
Arletta Van Hausen

  Arletta Van Hausen was born in Yuba County but moved to Yuba City as a youngster. She was adopted on Christmas Eve 1999 when she was just a couple months old and moved in with Moe Howard. She thrived and grew to a size of 20 pounds on the healthiest cat food available. Oh, did we mention Arletta is a feline? She loves sleeping for many hours a day, but while awake will spend time with her very own flock of leghorn hens, who refer to her as "The Cat." Arletta is also a fan of Animal Planet but will switch off her television when reruns of Lassie air. Arletta currently lives in the small town of Sutter, California, and has for years, been a big supporter of STAR 94 FM.
clear photo
Allison Kirk


Allison Kirk was born and raised in Grass Valley. She completed her education at the Interior Design Institute and is a certified Interior Designer. Allison worked as an Interior Designer at Young's Carpet One for six years and became very active in her community. After serving as President of the Rotary Club of Grass Valley South… Allison decided to choose a career that was more community-based. This is when she discovered Nevada County Broadcasters and began her life in Radio. She is currently an on-air personality on the Morning Buzz on STAR 94 FM and The Shopping Show on KNCO Newstalk 830 AM. She is also the Promotions Director for both stations at Nevada County Broadcasters. In her spare time, Allison enjoys karaoke with her friends at local hot spots and hanging out with her little gangster dog Rufus. Allison is thrilled to be able to live and work in Nevada County and is passionate about giving back to this community that she loves very much.
clear photo
Carl Southcraft


Karl Southcott here! I'm a giant movie fan and love everything from the classic film store all the new exciting flicks. When I'm not in a movie theater I like to hang with my family, especially around water, I think I'm part fish. I have two small boys that keep me busy, let me tell you! One of my very favorite things is sharing music on the radio with our listeners. I love everything from Frank Sinatra to Bruno Mars. It's such a kick!
clear photo
Liz & Chris


Hi, I'm Liz Bell, a single mom to 2 gorgeous girls! I love throwing theme parties, read that as 'Pinterest addict.' I believe there is no better feeling than a sloppy ponytail and yoga pants. I enjoy traveling, things that sparkle and my partner, Chris Tyler. ***Chris Tyler here! I also have two kids, plus an awesome wife! I run marathons, but in real life, I love to spend time at our neighborhood pool.  And I'm a huge sports fan.  It's hard for me to choose a favorite type of music! I like many different types! Except maybe Gangsta Rap. I have to draw the line somewhere.
clear photo
Michael Gifford
Fun loving Michael "The Giff" Gifford and his wife of over 20 years are nutty dog lovers(labs/lab mix) and his two daughters keep him scratching his head daily, especially now that one of them has given him his first grandchild.  The family loves to travel and Giff is into golfing, hiking, camping… just about everything outdoors… except large animals that could eat him. His wife thinks he spends more time in the garden than he does with her, but she does enjoy the "fruits" of his labor.
clear photo
Richard Stevens

Richard Stevens lives for quiet simplicity away from the constant barrage of noise and information-
overload. He grew up in North Dakota, where life moves at a slower pace, and radio signals seem to
go on forever and finds satisfaction in entertaining listeners with insights, ideas… and a certain wacky perspective on life. Richard is married to his soulmate Amy and, to get her, they have three children.  They enjoy long walks, yoga, movies, quirky television shows and enjoying time together at home.
clear photo
Melody Morgan

Hi I'm Melody, the proud mom of a golden retriever named Emma! I enjoy cooking, playing video games and hanging out with friends. I love Superhero movie's, The Walking Dead and all things techie.  Chewbacca Mom is my favorite person ever. Life is too short to take seriously. Embrace your dork!  Friend me at facebook.com/MelodyOnTheAir or follow me on Twitter @MelodyMorgan
clear photo